Originate Proudly Presents - Summer Rush - 14th June 2015
Written by originate11 on 14-May-2015.
A night of pure oldskool from Brighton's finest playing from 1991-1995 a true trip down memory lane.......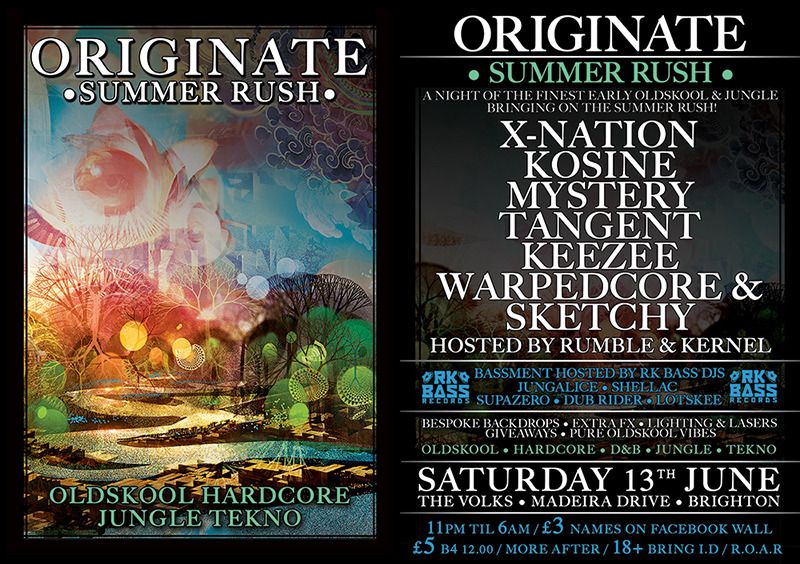 ORIGINATE PRESENTS "SUMMER RUSH"
SATURDAY 13TH JUNE 2015 @ THE VOLKS CLUB
A TRIP DOWN MEMORY LANE PLAYING THE BEST IN EARLY OLDSKOOL HARDCORE & JUNGLE..
ORIGINATES FINEST OLDSKOOL & JUNGLE SELECTORS ON THE NIGHT:
X-NATION [93 SET]
KOSINE [92-94 SET]
MYSTERY [OLSDKOOL SET]
TANGENT [91-92 FULL STEAM AHEAD SET]
KEEZEE [92-93 SET]
WARPEDCORE & SKETCHY [92-93 DARKSIDE SET]

DOWNSTAIRS IN THE BASSMENT HOSTED BY RK BASS DJS
JUNGALICE
SHELLAC
SUPAZERO
DUB RIDER
LOTSKEE
11PM-6AM
OLDSKOOL • HARDCORE • D&B • JUNGLE • TEKNO
£4 NAMES ON FACEBOOK WALL [FB NAMES CLOSES AT 1AM]
£5 BEFORE 12.00
MORE AFTER 12.00
18+
PLEASE BRING VALID I.D
R.O.A.R
Tags
Originate Oldskool Summer Rush Brighton Volks Club